How to make one shade sail?
Views: 8 Author: Site Editor Publish Time: 2016-12-08 Origin: Site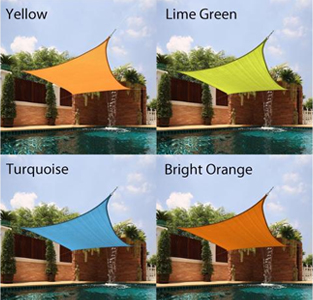 Gather your supplies Suitably sized and shaped sail (see Notes, below) 100mm diameter. x 4mm wall thickness galvanized steel posts Concrete mix (4 bags per post) Suitable stainless-steel fixings for attaching sail to your combination of posts, fasciae and walls. These include eye bolts for posts, pad eyes for wall fixings, external-grade Chemset chemical anchor (if fixing into masonry), U-bolts, strap tensioners, S-hooks, D-shackles, fascia supports and turnbuckles

Step 1
Lay sail out on ground. For a 5 x 3m sail running parallel to wall, it should be 300mm from wall to allow for tensioning. Mark out positions of posts and wall or fascia fixings, allowing an extra 300 and 500mm from each corner to allow for tensioning. Square and rectangular sails are normally installed as a hyperbola, so diagonally opposite posts or fixing points are high or low.

Step 2
For each post, dig a 400 x 400mm hole 800-1000mm deep. If ground is firm, lay about 100mm of 20mm aggregate in base of hole. If ground is soft, pour about 100mm of concrete in hole.

Step 3
Bore a hole near bottom of pole and insert a galvanized steel bolt with nut. This keys post in concrete and stops round posts rotating. Fit a heavy-duty, stainless-steel eye bolt 50-100mm down from top of posts. Use double nuts (1 a lock nut) so it cannot work.

Step 4
Stand posts in holes with eye-bolt facing diagonally opposite post.
Brace posts with temporary props and ensure they are plumb in 2 directions.

Step 5
Fill each post hole with a fairly dry concrete mix and tamp concrete well. For most smaller sails (under 5m square), posts can be vertical, but for larger sails, move top of post away from opposite post by 150-200mm, so it leans out from sail slightly to help take the strain. Re-tamp concrete and finish surface with a slight slope away from post so water can drain. Let concrete cure for 24-48 hours.

Step 6
While concrete cures, secure wall and fascia pad eyes, if required. Never rely on the fascia alone; fit fascia supports to fasciae and rafters first to give adequate strength. If fixing to masonry, use an appropriate anchor system. In many cases, a chemical anchor is ideal, but an alternative is to use epoxy together with a conventional masonry anchor.

Step 7
Once concrete has cured, spread sail back out on ground. Attach fixings to corners of sail with turnbuckles wound out to as slack as possible (you will need turnbuckles on at least 2 corners). Lift each corner to an eye bolt, then tension sail using turnbuckles or tension straps. If you need to extend length of fixing, use straps. Re-tension fixings as necessary over time and clean sails periodically.